Shawston have been members of British Automatic Fire Sprinkler Association (BAFSA) for several years as a recognised supplier to contractors throughout the fire sprinkler industry. So when BAFSA asked Shawston to host a table at their Ruby Jubilee Gala dinner they jumped at the chance to join the key players in the industry to celebrate this special occasion. Graham Wilkins (Director), Paul Beardow (Fire Market Manager) and James Billingham (Fire Sales Executive)entertained key customers at the event.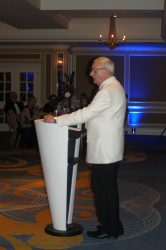 BAFSA were established as the UK trade associate which cover 85% of the fire sprinkler installations through their members. Their myriad members work closely with the Government, Fire & Rescue Service, Building Control Officers, Insurers, Architects & Town Planners and around 200 members of the industry attended the event, which was held in the fabulous setting of the Bristol Royal Marriott Hotel overlooking the magnificent Bristol Cathedral enjoying plenty of South Western charm.
With an compelling speech Chairman of BAFSA, Peter Armstrong recognised the efforts of the people that make it all happen, and also announced his intention to step down after 14 years in the role.
Director Graham Wilkins said "Over the years Peter has been an influential role model of the committee, making challenging decisions while keeping spirits high with fellow members. It is sad to see Peter step down but we very much look forward to supporting the new Chairman and his vision for the future."