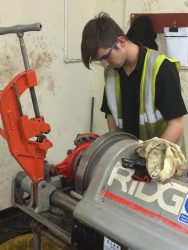 As part of the Shawston philosophy to encourage youth within the group and also to help local communities where possible, we have opened our doors to the youth of today. Shawston are keen to help young people develop new skills and gain experience across the world of work. Completing work experience from an early age assists in understanding the work environment whilst helping to develop confidence, respect for others and work values.
To date we have had four young men working in our tube processing department. They have all come away with a knowledge of cutting/screwing pipe, an insight into how our purchasing department works as well as learning about the stringent health & safety standards of which all businesses have to adhere.
Alongside helping the youngsters learn what life in the workplace is all about, these key individuals have helped Shawston Tube produce finished stock, ensuring it has been a value added experience from both sides and a formula that we intend to repeat where opportunity arises in the future.
One of the young men George Davenport (15), son of Shawston MD Rob Davenport, has reportedly beaten Rob's record of screwing 28 lengths of pipe in 60 minutes! (without any quality recall!) Rob may well be back out in the stores to improve his score very soon, watch this space….